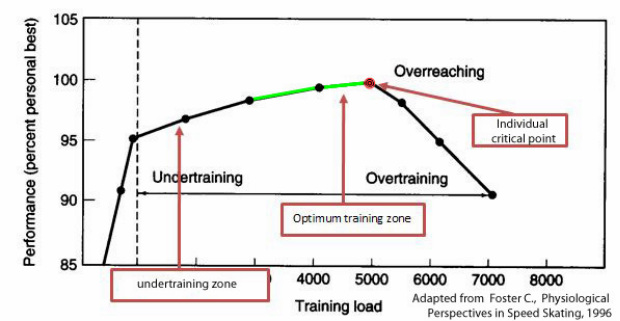 Sports
training is built according a balance between training time (effort) and recovery time active or total rest).
Workout plan is to attack the body that will disrupt his balance.
The interest of the training is to trigger a recovery phase that will encourage the body to regenerate ending up at "equilibrium" with a level higher than before"agression".
Overtraining is the result of an imbalance between training time (effort) and recovery time active or total rest.
It can affect athletes at all levels and occur stealthily without athlete or physical trainer noticing it and therefore of interest to all sports doctors.
It often has multiple factors for overtraining: these includes multifactorial life "outside workouts" including work stress, family. Complex pathophysiology of overtraining syndrome is essential to know, to understand the "tracks" that led to propose a particular biological assessment.
Be warned however not to point too quickly tiredness which can be corrected after a week of substantial rest regime and overtraining as a chronic fatigue, it does not evaporate as easily after overtraining unfortunately.
Overtraining is actually basically a manifestation of an imbalance in energy, shortly the individual is placed in a situation characterized by an energy greater than its banking.
So that, "in fine" overtraining is not only a physical penetration, as it occurs even mentally!
3 fatigue states: awareness careful not to "fall" into a overtraining spiral
Every sportsman knows after a workout a normal and a good sign of fatigue.
This fatigue may be transitional and only observable in the next day or 48 hours maximum after exercise .
It may be more pronounced, it is called "the overreaching", it's observed for example after a block of 3 to 4 days of heavy training load), if the rest is immediately initiated with a recovery period including very moderate sessions, 1 to 2 weeks will sometimes remove the overflow.
If the alarm phase of "overeaching" signal is not "heard" then go to the state of overtraining. In this case, the return to normal will require at minimum 1 to 2 months to see a lot more in some cases.
The different type of fatigue
When the mind and the will are not doing everything!
This is our nervous system, the unconscious part of the brain, completely independent of our voluntary control, which manages our recovery and management of our tiredness ...
It is this nervous system that controls especially the cardiovascular and respiratory functions.
If the system is not at the top ... all commands will suffer the consequences.
The autonomic nervous system is divided into two branches called: parasympathetic and sympathetic.
The parasympathetic nervous system
It is the "automatic" control of our brain used for rest with effect of a decrease in heart rate
Called "calming" it lowers HR. It is related to the ventilation and respiratory rate.
(very simplified summary)
The sympathetic nervous system
This is the brain command to bring energy on days when the body made ​​an effort or if it faces a high stress. The role of the sympathetic nervous system is to put the body on alert to accelerate the heart
Called "stimulant" because it energizes, activates the degradation of fuel for the muscles (substrates)
(very simplified summary)
typologies fatigue
Fatigue A: collapse of two systems
Fatigue B: a tone too high (hypertension) in sympathetic activity
Fatigue C: a total collapse of the sympathetic activation
Fatigue D: too high a tone of parasympathetic activity (the most rare but most severe fatigue)
Symptoms of overtraining
Please note all of these symptoms do not appear, which complicates diagnosis, there is no single clinical sign, both subjective and objective, overtraining, but a cluster of symptoms that will make the diagnosis.
_ bad result and feeling tired
_ restless sleep, difficulty to fall asleep, nocturnal awakenings hypersomnia or vice versa.
_ decreased appetite
_ muscular symptoms of legs hard, sometimes unusual cramps
_ digestive disorders.
_ An infectious context is often found in the 6 months before the state of fatigue (eg output mononucleosis)
_ weight change: it can be positive or negative and vary from 3 to 5 kg.
_ nutritional errors: if the hydratation level is good, very often a quick survey shows clearly insufficient calorie intake, in particular for sugar with a low glycemic index (starches) and proteins.
_
At rest, the heart rate can be reduced markedly (the sympathetic activation at half mast) or severely increased
_A stress pulsations quickly shows and crashes often at the threshold 1 (80-85% HR max)
_legs quickly become hard without feeling pushing (in stress test, 2 mmol lactate threshold is often exceeded long before the arrival of stage 1) ventilatory submaximal are then higher and the maximum lactate generally lowered. The recovery criteria are generally much worse.
What to do in case of suspicion of overtraining
Physical examination by a sports doctor for:
Look for any signs of a blood disease or tumor (lymph nodes inspect, inspection of the conjunctiva, skin.
Search on cardiopulmonary plane abnormal blood pressure measured in the supine and standing position, abnormal electrocardiogram, especially if you have previous examinations.
The stress test (with evaluation lactate):
Search for a modification of "abnormal" heart rate, elevation of a possible ventilatory parameters (tidal volume and respiratory rate)
Identify whether or not an increase in submaximal lactatémies.
Identify whether sagging lactic and ventilatory thresholds
the biological assessment
Help to eliminate a viral infectious disease and / or bacterial
allow immune balance, hormonal and enzymatic. (CPK)
the nutritional status
seek a deficiency in hydration, rations of protein, carbohydrates, iron, especially of animal origin,
to specify the type of power supply during exercise.
So what if it is really there?
No miracle recipe:
a first step of complete rest (2 to 4 weeks)
a second step where we will introduce some short aerobic session walking, bike pedaling very flexible (2 weeks)
a third step where we will introduce in the aerobic sessions short sprints to wake up systems..
Text translated and adapted from Alain Roche.