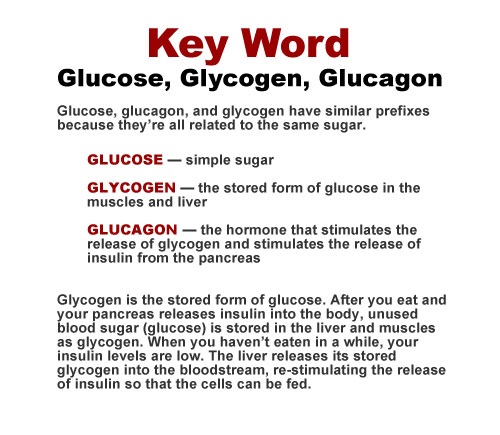 glycogen: a fuel tank from sugars
Glycogen is the storage form of sugar in the body. The stock is at two places in the body:
in the liver (hepatic glycogen)
in muscles (muscle glycogen)
What are the stock quantity in the "glycogen" our organization tank?
The muscles provide storage of about 70% of the glucose from the diet while the liver that provides storage of about 30% glucose.
For muscle glycogen: about 350 to 400 g (specifically about 15 g / kg of muscle)
To liver glycogen: about 100g
Different and complementary functions
The hepatic glycogen
It is exported in the blood, the release of livers' glycogen is used to maintain a constant blood sugar to ensure the functions of various organs, including the brain being large and exclusive consumer of glucose .... The hepatic glycogen is the unique contribution of glycogen in the brain that is also a permanent availability of glucose known to penetrate easily into our neurons.
Muscle glycogen does "not rise to the brain" .....
The penetration of liver glycogen in our muscle fibers is much more complicated. Blame it on the cell membrane that strongly limit the passage. Clearly, the glycogen content in the liver provides very little energy to the muscles, totally not linked to the quantity stored.
It's also a reason why drinks in muscular effort are used primarily to avoid hypoglycemia and not a boost since muscle contraction are unable to compensate for the depletion of intramuscular glycogen.
muscle glycogen
It is mechanical energy used , it provides molecules quickly exploitable glucose to provide energy to the muscles for movement mobilized. However the consumption of muscle glycogen stock is made only in the muscles that are active during exercise.
And a triathlete will consume the stored glycogen in the muscles of the shoulders and arms during swimming sequence, whereas when it is in a position to marathon it will use almost exclusively glycogen legs.
This inability to transfer glycogen from one muscle group to another is seen on a boxing on round 12, often we see boxers lower their guard before losing their footwork, ditto for a marathoner who is struggling then he held a satisfactory motor coordination in the upper extremities.
How much do we consume glycogen during exercise?
an athlete making a 10 km in 30' consumes about:
137 g of muscle glycogen (a reserve 400g)
18 g of liver glycogen
9 g of glucose produced in the blood
At rest, approximately one quarter of the quantity of ingested glucose is converted to the 3/4 ... muscle glycogen are oxidized.
Upon exercise, no luck glycogen synthesis (muscle) will be strongly inhibited.
Blame it on a strong work enzymes that are waking up (glycogen phosphorylase and glycogen synthase to close).
Instead on an ultra data are different, in fact it has been shown that the effort remains moderate with low mobilization of VO2 max, then the glycogen synthesis can continue (work by Huang).
Ultra race is usually a lipid utilization, panic about running out of glycogen to advance is even less rational in light of the maintenance of glycogen synthesis.
the transformation mechanism
Processing food swallowed by glycogen for storage carbohydrates in the body is stimulated by insulin,
Extraction of glycogen to glucose in the retransforming the usable by the muscle is the adrenaline and glucagon
Role of insulin:
Insulin helps the glucose transport in skeletal muscles (stimuli) liver cells and brain. After absorption of a significant "sugar" the glucose level in the blood is high, insulin is released by pancreatic to facilitate the entry of glucose into muscle cells (from the intermediate carrier to a known good the sweet name of GLUT4). This explains that diabetes (insulin dependent diabetes) with insulin deficiency seen elevated concentration of glucose in the blood.
Hypoglycemic effect of insulin (the insulin spike)
In case of high glucose in the blood insulin secretion is very important to control the liver to store sugar ... Very schematically the result will be an increase of glycogen in the liver at the expense of glucose production for muscles ... so to avoid full effort !!
Not quite the coincidence that sportsmen like Pantani (positf insulin in 2002 at an anti-doping test) was attempted by injecting insulin into recovery to restore massively and quickly hepatic glycogen stores!
Insulin and fat cells
The time has limits for stored glycogen, any extra glucose is going to run again thanks to insulin to cells able to recover: it is the fat cells (adipocytes) that will have the unfortunate tend to produce triglycerides ..
The consumption of liver glycogen in athletes "stress" case: the high production of adrenaline
Adrenaline is secreted in response to nerve signals (by the adrenal glands) has the direct effect to speed up degradation of liver glycogen.
Indeed for short adrenaline will lead through a chemical reaction (increase in intracellular glucose 6-phosphate) to a surge in consumption in muscles (glycolysis) accompanied itself of a given liver to release order glycogen to be converted into glucose in the blood
Breakdown of muscle glycogen = the munchies
The craving is due to breakdown of muscle glycogen happens falls suddenly without warning.
Of course, when it happen, the reserves are not totally void .... but here we do not control all; the autonomic nervous system chooses to cut the effort before the reserves are finished.
After exercise: recharge glycogen
At the end of a long effort and / or intense this window is available about 4 to 6 hours to restock optimal proportion of muscle glycogen, past this window,
It must be remembered that about 1 g glycogen storage requires the use of 3 g (2,7) of water.
So the more we store more glycogen more we got to stock water!
Just little theoretical calculation: Imagine a sportsman Max storage of glycogen (600g remains high level): this means that a share with "water bladder inside '1620 g of water ...
The "carbohydrate loading" is a double effect of storage: Glycogen + water
On a long distance event the water supply will be interesting in view of the importance of dehydration ... this is much less true for a short test!
On small distance less than one hour it is not appropriate to initiate excessive glycogen storage ...
24 enough ...
The work on the Lithell glyconéogenèsele show that glycogen can be largely reload on slot 24h.
source: Lithell, "lipoprotein lipase and glycogen After Prolonged physical acticity, J Physiol Apple Edition (1984)
Marketing effect of energy gels called "long-term"
I allow myself a digression on the subject:
I remain convinced that the gels called "long term effect" whose composition shows a very high concentration of carbohydrates are pure marketing campaign because it suggests the consumer will redo his glycogen stock again race ...which is totally wrong!
Indeed the so-called gels, often taken when one is already in a state of dehydration will totally fail because of water molecule missing!
Carbohydrates consumed during exercise can not replace muscle glycogen, at most they may delay exhaustion.
Glycogen storage info
Carbohydrates provide most of the energy needed for muscles to function effectively in an aerobic effort.
The body is able to store carbohydrates as glycogen in the liver and muscle glycogen stored .
It should also be noted that the liver glycogen stores serve only to maintain essentially constant level of glucose in the blood and avoid hypoglycemia. Indeed, the brain knows where to take the sugar to be used and it is a permanent availability of glucose who knows very easily penetrate in our neurons. What is much more complicated when he has come into our muscle fibers ..... Blame it on the cell membrane that strongly limit the passage. Clearly, the glycogen content in the liver provides very little energy to the muscles, irrespective of the quantity stored. It's also a reason why drinks muscular effort has only the name because it is used primarily to avoid hypoglycemia and not a boost since muscle contraction are unable to compensate for depletion of intramuscular glycogen
maltodextrin and priority marketing effect !!
Very often I am asked malto effect three days before the competition .... Commercially malto three days before makes sense ... but otherwise physiologically speaking the positive effect is much more complicated to prove ...
We can still wonder about the real effect or a placebo "stocking" malto three days before .... when we know that outside of blood glucose resulting from the digestive system (extrinsic carbohydrates), is primarily the stock of glycogen muscle cells (Intrinsic carbohydrates) will assume the role of fuel in stock!
The glycogen is set up effectively with sugar intake with a low glycemic index .... malto have a high GI of about 95 !!... so this leaves me a bit skeptical on the choice of this "sugar" to build up its glycogen stores ....
Agave syrup or powdered coconut sugar still not very well known in France, it has far better interest with GI close to 30 ...
Hence my advice to consume 48 hours before the race good home cooked fruit compotes acid-skinned and glitch: banana, pear, peach, apple, and sweet coconut sugar or agave syrup powder ... .in replacement rather
tasteless
malto powder ....
You will make significant savings by adding the pleasures of taste buds ... not bad right?
sources:
Huang
"Cyclin partners determined Pho85 protein kinase substrate specificity in vitro and in vivo: control of glycogen biosynthesis by PCL8 and Pcl10."
Mol Cell Biol edition, 1998.
Exposed by French Poortmans Works and Boisseau
Biochemistry of physical activity in 2003.
Bigard X, Guezennec C-Y. Sports nutrition. Ed. Masson, 2007
Willmore JH, Costill DL Physiology of Sport and Exercise. Ed. Oxford University Press, 1998
peronnet
"Use of 13C substrates for metabolic studies in exercise: Methodological considerations"
Publisher: J Appl Physiol 1990Text translated and adapted from Alain Roche.