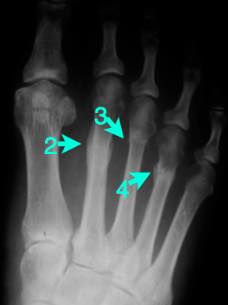 Running marathons or walking to work, you could be at risk for a stress fracture.
Many of us exercise to reduce stress; sometimes our bones don't get the right message and we end up with a stress fracture instead. Surprisingly, it's not just long-distance runners who get stress fractures. Anyone who increases her weight-bearing activity is at risk.

What is a Stress Fracture?
A stress fracture is a microscopic break caused by an overload of forces on a bone that has been unable to adapt to the increased stress. Unlike a broken bone, which occurs with a distinct traumatic event, a stress fracture is the result of cumulative overload that occurs over many days or weeks.

Bone is a living tissue that constantly adjusts to the demands placed upon it. As force is applied, the bone will remodel itself to better handle the force. In a runner, for instance, the bones of the lower legs and feet strengthen to handle the impact of landing.

The body makes bone stronger by increasing blood flow to the area and by reabsorbing minerals to form new bone. If too much force is applied, the bone may fracture before it can successfully remodel.

In sports medicine, we often say that stress fractures can be caused by doing too much too soon: Too much impact or force is applied to the bone before it can successfully remodel itself to handle the load.

The bones most commonly fractured are those of the lower leg, the tibia and fibula, followed by the metatarsal bones of the feet. Athletes who use their upper arms, such as baseball pitchers and gymnasts, can experience stress fractures in their wrists and upper arms.

What causes stress fractures?
Training errors are often the cause of stress fractures. Among them are a rapid increase in distance, running too many hills, running on a hard or uneven surface and wearing worn-out shoes with inadequate cushioning and support.

Of course, not everyone in an aerobics class will get a stress fracture. Clearly; some people are more susceptible to stress fractures than others.

One important risk is low bone density; caused by a lack of weight-bearing activity; malnutrition and lack of the female hormones estrogen and progesterone. Any woman with a history of an eating disorder; particularly anorexia, may have lowered bone density.

A woman who has had amenorrhea (cessation of menstrual periods) may also be at higher risk for fractures because of the low levels of female hormones. Amenorrhea can be treated by replacing the hormones with medication. See "A Crucial Period" for more information about amenorrhea.

Biomechanical imbalances, such as having one leg longer than the other; may unevenly distribute the load to the bone and also increase stress fracture risk. If you suspect you have a stress fracture, consult your sports medicine physician for an evaluation.

Symptoms
The symptoms of a stress fracture, like the fracture itself, do not usually appear suddenly You'll feel a dull, deep, aching pain at the end of an activity - after a day of heavy walking or at the end of an aerobics class, for example.

By the next day, the pain is usually gone or much diminished. However; the aching returns the next time you're active. If you continue activity the pain will crescendo. It is generally localized in an area about the size of a half dollar and may feel tender to the touch. Typically it does not extend up or down the length of a muscle or tendon, like tendinitis.

If a physical therapist or trainer is treating you with ultrasound, the pain will get dramatically worse when the sound waves cross the stress fracture. Tendinitis can coexist with a stress fracture, so the physical examination and symptoms of these overuse injuries can overlap. In some cases there may be a swelling or prominence of the bone over the stress-fracture site.

How is a stress fracture diagnosed?
Since a stress fracture is microscopic, it is very difficult to find on a standard X-ray. Routine X-rays don't pick up stress fractures until healing is in progress, anywhere from two to eight weeks after the onset of pain.

So it is possible to have a normal X-ray but still have a stress fracture. The healing appears as a thickened outer rim of bone or as a callus, which is a hazy increase in the density of the bone.

A specialized X-ray image called a bone scan can diagnose a stress fracture if the standard X-ray is normal. Before the bone scan, a small amount of radioactively labeled material that concentrates in areas of active bone formation is injected into your system. A bone scan will show the site of the stress fracture within a few days from the onset of pain. Bone scans can also be used to diagnose other bone problems.

The state-of-the-art diagnosing tool for stress fractures is now the Magnetic Resonance Image, or MRI. There are no radioactive substances involved and the image is far superior to an x-ray or bone scan. It is, however, very expensive.

What To Do
A stress fracture isn't the end of the world, but it can cause a lot of pain and may end your training or activity for a significant period of time. Like true fractures or broken bones, a stress fracture takes four to eight weeks to heal, depending on the bone injured and the size of the fracture. In most cases, you don't have to be put in a cast or on crutches, but you will be advised to significantly decrease weight-bearing activity.

For an active woman with a stress fracture in her foot, this usually means wearing a flat shoe with firm support and walking only enough to complete the chores of daily living. To stay in shape you will have to choose non-weight-bearing activities such as bicycling or swimming. If any activity causes pain, you should decrease the amount of activity until you are pain-free.

During rehabilitation, your physician or therapist should evaluate your risk factors for sustaining a stress fracture (see "Seven Ways to Decrease your Stress-fracture Risk" on the next page) and treat any tendinitis or muscle imbalance with a combination of stretching and strengthening. You will usually be pain-free within a few days to a few weeks, but you must be patient for the full four to eight weeks until your physician says it is safe to start increasing activity again.

What is the best way to return to training?

Reactivating:
Your return to activity should be slow and steady, with small amounts of weight-bearing activity done on alternate days on a cushioned surface. For instance, if you have a stress fracture you might be biking 30 minutes a day to maintain aerobic fitness. When you are medically cleared to resume running, you may start by running for five to 10 minutes on grass, then biking for 20 to 25 minutes to complete your 30 minutes.

As long as you are pain-free, you can run every other day and increase your running time by five to 10 minutes per session. This allows time for the bone to adapt to the forces of impact again, helping to prevent a recurrence of stress fracture.

Most stress fractures can be effectively treated in this manner; but a few deserve special attention. A stress fracture in the neck of the thigh bone (femur) where it angles toward the hip socket is serious and may become a complete fracture. Surgery, including a pinning of the hip with orthopedic screws, would then be needed. To avoid surgery women are immobilized on crutches until such stress fractures heal.

Stress fractures in the small bones of the wrist and foot can be difficult to diagnose and may not heal completely. They may require surgery and bone grafts for healing to take place.

Seven Ways To Decrease Your Stress Fracture
1. After resuming physical activity, gradually increase its duration and intensity over four to six weeks to allow the bone time to adapt to the increased load.

2. Assure yourself a daily intake of 1,000 milligrams of calcium, the principal mineral in bone. Amenorrheic women need 1,500 mg of calcium a day. One 8-ounce cup of skim milk has 300 mg, a cup of plain yogurt has 415 mg and 1 oz of cheddar cheese has 200 mg.

3. Don't train in shoes that have lost their cushioning and supportive properties. Look for wear patterns on the bottom of the sole or buy new shoes after 300 miles.

4. If you have stopped menstruating for two months or more, see a physician for a full evaluation and consideration of hormone replacement therapy to maintain bone mass.

5. Be aware of your exercise surface. Hard, unyielding floors and concrete or asphalt surfaces don't provide shock absorption and transmit more forces to the bone.

6. If you run on the side of the road, change direction regularly to even out the time you spend running on the slanted surface.

7. Strengthen the muscles in the front of your lower leg by heel-walking, toe-tapping and doing ankle flexing exercises with 1- or 2-pound weights strapped around the toes. Strengthening these muscles will balance the strength in the larger calf muscles.

Source :Athletic Woman's Survival, co-authors :
Carol L. Otis, M.D., is Chief Medical Advisor to the Sanex WTA and UCLA student health physician.
Roger Goldingay is a former professional soccer player.