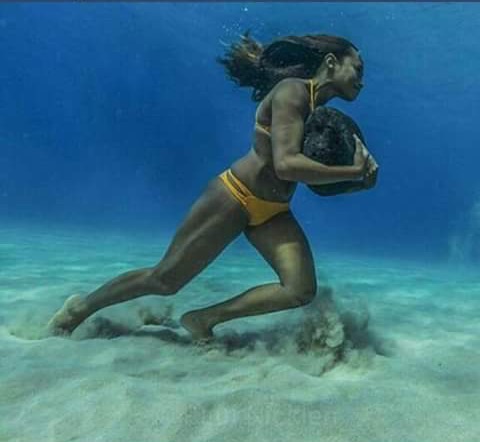 The most effective way to increase your body's efficiency when briefly starved of oxygen is lung training (hereon known as hypoxic training).
And yes, you guessed it, this involves lots of swimming underwater. Particularly exercising in short bursts while holding your breath.

One of the best forms of hypoxic training is underwater rock-running. This is where you dive down, pick up a massive rock and run along the bottom holding onto it. This is great because it forces your body to perform better at a strenous cardio activity without a consistent supply of oxygen,
and as you get deeper you're body gets more accustomed to working at depth.
You know how when you dive down deep it hurts your ears?
That is because of the increase in pressure due to the volume and weight of the water combined with the force of gravity.
What this means is that as you get deeper the air in your lungs becomes compressed.
So a full lungful of air at the surface will always be less underwater.

An example : on picture haiwaiian surfer Ha'a Keaulana runs accross ocean floor with a 50 pounds boulder, as training to survive to the massive surf waves.

Large waves can pin a surfer underwater for a long time. The ability to relax and not panic while waiting for the water to settle is critical to survival. This exercise is used to strengthen the endurance and resolve of being held underwater for an extended period of time.