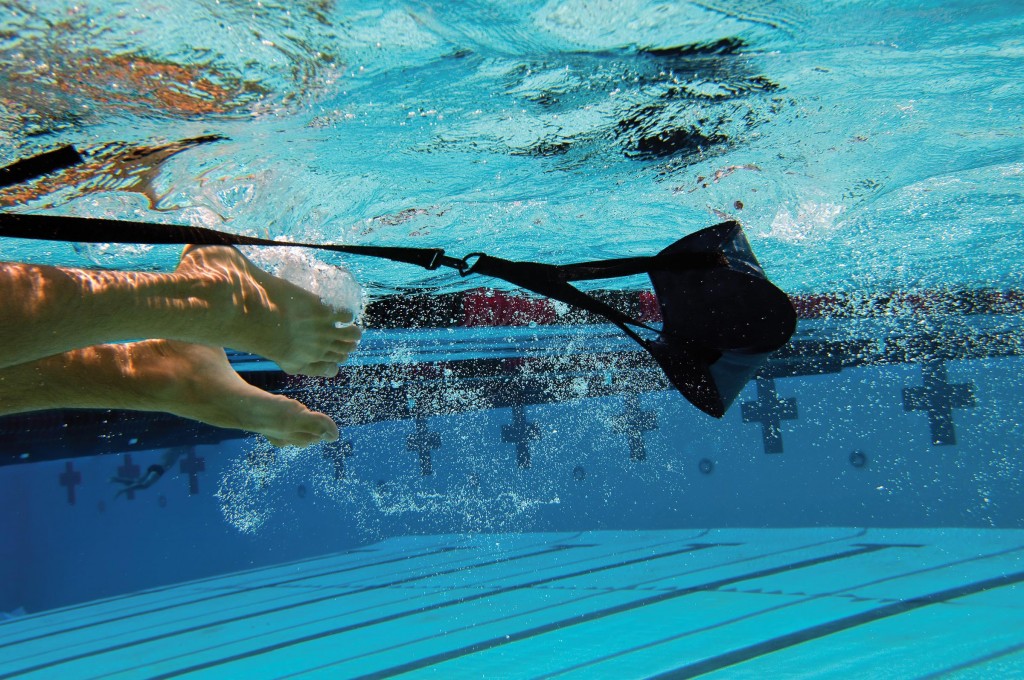 Swim parachutes are unique in this group of resistance training tools because the parachute resistance is directly related to the velocity of the swimmer. Further the resistance will stay relatively constant throughout a lap or interval if the swimmer's speed is maintained. Many swimmers use parachutes in lower intensity training sets like pulling sets, where you can combine resistance with paddles to work on upper body development. I would also recommend trying swim parachutes in sprint workouts. During high intensity 10-20 second bursts, the higher sprinting velocity will create a tremendous resistance workload for the swimmer.

The Swim Parachute is a great tool for training your swimmers to ignore the "monkey on the back" toward the end of a hard race and finish strong into the wall. Becoming comfortable with fatigue is a crucial part of the racing experience, particularly to swimmers who regularly compete in the 200's of stroke. The added drag experienced while swimming with a Swim Parachute simulates this feeling to perfection, allowing you to provide real-time feedback in a training setting. Take the parachute off after a period of use and the athlete will immediately notice the amount of water they are able to feel and the easy speed that is associated with the first 50 of their race.

TRY USING THE SWIM PARACHUTE ON THE FOLLOWING SET:
(Warm up)
3 Rounds
6 x 50M Swim with parachute FAST
Rest :30s and remove parachute
2 x 50M Swim @ 200 pace (80% effort)
(Cool down)

For fitness swimmers, the Swim Parachute is a valuable tool because it requires continual emphasis on stroke efficiency and endurance. Added resistance in the water is a safe way to build strength in the large muscles that move big weight as well as the small muscles that stabilize your bones. No matter where you fall on the spectrum of fitness swimming, the Swim Parachute is a surefire way to build strength and improve technique.

The Swim Parachute is made up of a comfortable, adjustable nylon belt, which is connected to a durable parachute. With two resistance sizes, 8 inches in diameter and 12 inches in diameter, the Swim Parachute provides varying levels of resistance for everyday training. Resistance training is proven to build muscle, increase endurance and boost speeds where the results can be felt immediately after the parachute is removed. The Swim Parachute is versatile, compatible with all strokes and non-intrusive as it does not get in the way of kicking or flip turns.