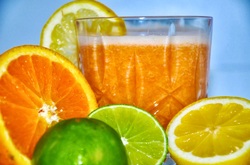 Orange against lemon?
We often hear the orange would be a poison for acidity ... true or false?
For my part I remain more moderate and I would not say that the orange juice is to be avoided, I would point the lemon juice, when it is well tolerated, is superior in terms of nutrient intake.
Many people class oranges, grapefruits ... but also apricots and plums berries as acid fruit.
Actually beliefs die hard because orange is alkalizing; with a PRAL (Potential Renal Acid Load) of -2.7 and grapefruit is -3,5.
(The PRAL indicates the potential renal acid load of a food that has alkalizing or acidifying effect on the body. This is in the urine that we measure it. A value above 0 indicates an excess of acid.)
These fruits therefore have a positive effect in people in good health tolerant and / or having no aversion to taste.
Do not confuse acid and acidic fruit taste ... It's all useful chemical reactions in the digestion of food that will indicate whether it is alkalizing or acidifying and no matter the principle that food itself has got acid taste.
However caution for grapefruit that can seriously disrupt certain enzymes and end up in conflict with the medication!
In citrus fruits, lemon is on top of the podium, why?
Lemon is highly acidifying on "taste" but its richness in minerals, particularly potassium it is going in the direction of alkalosis ...
Lemon is rich in calcium with calcium / phosphorus "ideal" 1.4 which is optimum for a proper use of calcium in the body.
Its
high vitamin C is a very positive factor for calcium absorption.
The combination honey / lemon
We forget, honey is also good for muscle cramps.
A half liter of water with the juice of a fresh half lemon and a good tablespoon of honey, to be taken three times a day between meals.
Tomato and misconceptions
His PRAL is negative depending on the variety we are between -3.5 to -5 ... so negative and thus alkaline ...
Not to mention in passing that the tomato contains a powerful antioxidant: lycopene (besides element that gives the red color).
When I advocate the juice from peel it is precisely because it is in the peel that is the essence of lycopene.
Text translated and adapted from Alain Roche.