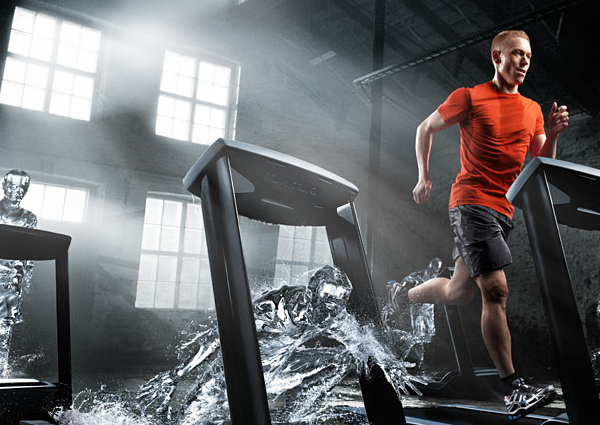 Manufacturing:
Maltodextrin is a carbohydrate derived from corn ( or wheat more rarely).
Maltodextrin is a combination of several molecules of glucose and maltose or a mixture of short different sugars ((glucose, maltose, maltotriose, oligosaccharides and polysaccharides) obtained by partial hydrolysis of the starch contained in corn (or wheat).
Hydrolysis (one might say colloquially "decomposition by water") is a process that allows to get molecules of smaller sizes.
The idea of saying that maltodextrins consist of being a chain short or long molecules that will force the body to take more time to break them to extract the glucose, there is no consensus ... . therefore I remain cautious.
In terms of energy outside this relative "slowness" extraction of glucose, maltodextrins have another advantage: their molecular weight is high.
This characteristic would make the osmolarity of a beverage lower than with malto of conventional sugar or fructose, at the same concentration (g / l) ... and so it will therefore encourage hydration.
The maltodextrin osmolarity being lower that of human blood osmolarity , the maltodextrin will quickly leave the stomach to be quickly absorbed by the intestine.
http://www.roquette-food.fr/delia-CMS/search_product/topic_id-1721/article_id-4698/product_id-1544/
Each different method of manufacturing a different maltodextrin!
Beware ideas skillfully conveyed by sellers of products stamped "Maltodextrin"!
Because there is not one maltodextrin but several maltodextrins ... each with DE ("dextrose equivalent") very different from each other ... depending on the degree of hydrolysis applied to the manufacture of so-called maltodextrin !
Indeed, the degree of hydrolysis depends directly on the DE.
Reminder:
DE = 0 is the starch itself without treatment ...
DE = 100 is pure dextrose, which is nothing more than starch totally transformed.
More high hydrolysis will be, the more the DE will be.
Different glycemic index (GI)
A maltodextrin is composed of various sugars (glucose, maltose, among others) in proportions which depend on the degree of hydrolysis. The higher the DE, the greater the proportion of sugars called "simple" will be important in maltodextrin made​​!
The maximum limit for DE maltodextrin is 20 Beyond this value the product will be called legally "glucose syrup", DE maltodextrins is extremely important to check.
As an indication, a famous brand is 15 which makes it a good product. If the most commonly used grades are in the range of 10/15; but you can find maltodextrins with a much lower degree (malto morga is announced with a 5-8 DE)
So there is no absolute GI fixed for maltodextrins, it can only be determined when we know the degree of polymerization chosen by the manufacturer.
Many manufacturers combine different grades them according to the desired effects to avoid the calorie gap of 1H30 ...
Indeed in the case of a beverage composed mostly of maltodextrins with very low grade, if from the start , the pace is very high, and if glycogen stored has not been effectively established before the event, they may end up with an early munchies after 1H30 more than likely.
Using malotdextrins
For a long distance event, or ultra:
The maltodextrin complement the drink and that in the early hours of the race.
But beware of misconceptions maltodextrins remain with a high GI if they are not associated with other types of carbohydrates which may lower the glycemic index (fructose in particular).
I insist that the maltodextrins are not in themselves "slow complex carbohydrates"!
(Although the concept of slow / fast sugar is obsolete, I use just here to illustrate my point.)
That's why swallow pure maltodextrin diluted does not make sense ... except for the gyyry7company that sells maltodextrin! Digestibility: some resistance ...

Why maltodextrins can be resistant against digestibility?
The answer is related to the issue of osmolality.
Reminder:
Osmolarity increases as the degree of polymerization (DP for short) decreases.
But maltodextrins got high DP so it decreases the osmolarity!
For example a cyclist bottle with 5% glucose (DP about 3) has an osmolality 10 times greater than a "maltodextrin" bottle (DP 10 to 20) on even concentration.
very important factor:
Maltodextrins will influence the rate of gastric emptying which is low for a high concentration.
Yep that speed is proportional to the volume ingested ... but inversely proportional to the osmolality of the solution.
But a slow gastric emptying will see intestinal fermentation flora with all maltodextrins that have not been degraded at level of the small intestine, causing flatulence especially for some and / or abdominal cramps in others. ..
Hence the extreme vigilance to have with the dosage of maltodextrins!
Malto and glycogen: Beware of ideas!
Note that it is important not to confuse malotdextrins which is remaining a form of carbohydrate (a nutrient found in our food alongside lipids and proteins) with glycogen, "stored" forms of energy in the organism by insulin.
Reminder:
the glycogen is stored in two "shelves": liver and muscles. To go out of those shelves and be used by our muscles, glycogen is broken down into glucose.
Maltodextrins consumed during exercise can not replace muscle glycogen, at most they should delay the exhaustion! making you believe this is a pure marketing effect from manufacturer.
Sorry to break a myth ... I'm not saying that this has no effect on you but then you walk into the placebo effect (always possible incidentally) because outside of an effort placed below threshold 1 synthesis of muscle glycogen will be almost zero because inhibited by a strong labor enzymes.
It is unrealistic to think that by drinking plenty of maltodextrin, we will take with her 30h wisely stored glycogen in the liver and muscles!
No, we can not hold 30h in ultra these reserve made ​​from complex carbohydrates such as maltodextrins or other pasta, rice and co (briefly that "slow" sugars is still called sometimes wrongly).
In an extensive study in 1984 (Bjorkmann) had demonstrated that a fructose / glucose complex will save energy this limited stock.
Moreover, it is by relying on this work that I built many of my recipes.
source:
Bjorkmann O
"Influence of glucose and fructose ingestion on the capacity for long-term exercise in well trained men"
Edition: Clinical Physiology, 1984.
The false debate of the maltodextrins glycemic index
The glycemic index is very "trendy" ... So we apply it to many things...
We must also stop thinking that the only qualitative factor of a food is its glycemic index!
The glycemic index is very far from looking as god which any athlete must kneel!
Those who feed us of this notion confuses "intestinal absorption" and "blood sugar increase!"
They forget to say that all carbohydrates have intestinal absorption structure with the same time, about 30 minutes ... and no matter the molecular complexity of each of them, simple or complex!
Yes the glycemic index is a completely arbitrary value, theoretical with variable geometry ...!
This is actually the glycemic load which is decisive: in fact it is the only value that shows the ability of a nutriment (with a portion given in grams, for example a 50g energy bar) to raise blood sugar food (the level of glucose in the blood).
So if maltodextrins are certainly absorbed from intestinal perspective identically as table sugar ... it does not mean they will be usable power within 30 minute ..!
We can make say everything to the index or glycemic load: food which are having a high glycemic load are responsible for a significant insulin secretion and ... that's it!
I allow myself to remind that insulin is driving the use of glucose into glycogen for your muscles ... very schematically more the body makes insulin more glucose is quickly converted to glycogen ...
The variables of the glycemic index
Numerous parameters are involved to modify the glycemic index of a nutriment!
How it's cooked
Protein presenceSoluble fiber presenceIs the nutriment sent in the stomach alone or with fiber?
etc ...
When we are told in many articles that maltodextrins have a high GI like monsters , it is forgotten that maltodextrins are rarely swallowed fasting.
Which athlete is doing a mono-diet of powdered malto during 3 ays!!!?
cookingPotato, what's his GI?
GI 83 in purée.
(so excellent in case of strong cravings efforts on very long race)
IG 56 with a gentle steam cooking with the ​​skin.
And yes grinding, mixing, switching to liquid creates enzymatic actions that increase the glycemic index!
And then of course all glycemic index gurus are swinging us that potato GI maddening counters forget that little detail.
Ditto for the pasta:
If cooking is "al dente" was about 45 GI = (therefore low with a slow rise and a low diffusion of insulin).
The protein network that has not been affected by overcooking will be able to trap the starch and prevent rapid and intense enzymatic action.
If "soft" cooking it can rise to a GI of 60. ... In this case 100 g of cooked dough arch to provide a virtually identical sugar 100g table glucose oups ...!
About pasta: avoid fresh pasta!
Indeed upon drying of pasta (pasta making) a protective film which will contribute to create slow starch gelatinization during cooking.
The carrot: GI = 20 when raw.
Boiled in water: GI = 50 because of the gelatinization of the starch.
The presence of protein
I refer in particular to the action of gluten.
This is particularly visible in the case of pasta.
The presence of gluten in pasta slows the action of digestive amylases which further limits glucose absorption.
In short gluten-free pasta will have a much higher than traditional egg pasta.
If you eat potatoes gently steamed with an omelet, the IG still will lower due to egg proteins.
The presence of fibers
If you eat pasta with legumes (rich in soluble fiber), the GI of pasta fall by the fibers.
As a reminder in the large intestine, fiber acting as a sort of sponge attract water and suddenly thicken the so-called fecal bowl which will delay the digestion of carbohydrates.
The degree of curing or preservation
A green banana; GI = 40.
Phase of maximum ripening; GI = 65.
This increase is explained by the conversion of starch: with ripening it becomes weaker.
Where to get maltodextrins?
The cheapest are sold in pharcacie (in France)
Caloreen of Nestlé
"Maltose dextrin" from Novartis
And ... if the potato replaced powders malto?
Fight against the conventional wisdom ...
We have no return except felt, apart from information provided by officials in sports marketing producers of maltodextrin on the so-called "revolutionary" effect of their powder "maltodextrin" to increase so "magical" our glycogen stores ...
The only thing that can be said with accuracy is the structure of maltodextrins.
the glucose long chain is explaining the window of complete degradation of maltodextrins (it takes about 2 hours).
However sometimes we read here and there totally simplistic information on the use of maltodextrins ... like that maltodextrins are useless on a 1:30 effortlessly ...
Indeed this is not the maltodextrin itself determines its interest but the window of use maltodextrins absorbed ...
Potato instead maltodextrins commercial powders?
We forget too often but maltodextrin can be made from several sources by hydrolysis (short by the decomposition by water).
Or one of them comes from the starch potato.
Potatoes are therefore a contribution in maltodextrin quite interesting ... slightly cheaper than powder maltodextrin Trade and totally natural (always nice to swallow a known product and from the garden or taken from the stall the gardener!).
Besides the complementarity of its nutrients from the potato, I think including the B vitamins and if cooking is adapted (gentle steam) the significant presence of potassium, like that of trace elements such as iron.
Her twin sister is even better! Sweet potato is the big sister ...
Potato sweet potato
A must: the sweet potato in terms of low glycemic index!
INDEX OF GLYCEMIC 45 (against 60 minimum for the baked potato fresh steam)
Sweet potato contains a particularly high amount of beta-carotene, a precursor of vitamin A, for short, the body stores it and convert it into vitamin A as needed.
The sweet potato mash is also an excellent source of vitamin B6 an essential vitamin for athletes as it sets magnesium.
Pay attention to the cooking!
The only way to initiate a process of partial decomposition of the structure of the potato into small molecules remains the gentle steam cooking.
Two possibilities:
The use of specific pan (AMC type), may be a great but very expensive.
The system of our grandmothers with two pots, one filled with water on the fire and the other with a hole at the bottom with the potatoes un-peeled to preserve the trace element.
I know my speech is not in line with the ideas on the concept:
malto = "slow sugar"
Because taken alone the assertion is simplistic ...
It seems important to remember that the glycemic index does not just depend on the degree of polymerization ...
And yes polysaccharides are not necessarily inherently "slow" sugars if they are not associated with other types of carbohydrates can lower the glycemic index of the mixture (fructose in particular).
That's why a "puree" with baked potato fresh steam + agave syrup (almost pure natural fructose) can be an interesting alternative 2hrs 30mins before a workout on long distance.
One way to vary with the house room sports cream, for example.
Malto powder / potato
In short a medium potato (about 130 g), 2 hours before a long-term effort, will bring about the body with a glycemic almost identical to 30g powder maltodextrin effect.
So about 90 g for 3 potatoes.
Reminder: It is about 70 to 80 g, if we respect recommendations by most manufacturers, for an equivalent of 1big ​​cyclist bottle can (750 ml).
Text translated and adapted from Alain Roche.