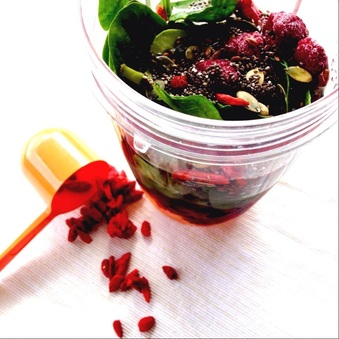 Goji berries have been used in Chinese medicine for more than 6,000 years.
Goji berries, also known as wolfberries, are the delicate bright red fruit of the goji shrub, which belongs to the nightshade family and is native to China.
Goji berries contain six vitamins, 11 minerals, 18 amino acids and a variety of potentially beneficial phytochemicals. Their health benefits are often grouped into four main categories: antioxidant, immune-boosting, anti-aging and nerve-function benefits.
Goji berries contain vitamin C, vitamin B2, vitamin A, iron, selenium and other antioxidants (notably polysaccharides).

Immunity, cardiovascular disease and life expectancy:
There is no reliable evidence to support these alleged health benefits. Most of the research into these conditions are small-sized, of poor quality, and performed in laboratories using purified and highly concentrated extracts of the goji berry.

Some studies using goji berry juice found possible benefits in mental well-being and calmness, athletic performance, happiness, quality of sleep, and feelings of good health. But those were preliminary studies that need to be repeated before drawing conclusions. All berries are good for you. It's not clear if goji berries are better than other types of berries, or if goji berry supplements have the same health benefits as the actual berries.
A study published in the July 2012 issue of the journal "Food and Function" found that goji berries may decrease inflammation and inhibit formation of blood vessels, properties which might give them a place in cancer prevention and treatment. In the test tube study, goji berry extract reduced free radical production and inhibited a substance called vascular endothelial growth factor, which promotes blood vessel formation. Further studies are needed to confirm these preliminary results.

Goji berries may improve your vision, according to Kansas State University nutrition department. Their high antioxidant content, including compounds such as zeaxanthin, lutein, polysaccharides and polyphenolics helps protect against oxidative stress and damage to the retina -- the nerve cell layer that lines the back of the eye -- a common complication of Type 2 diabetes. These phytochemicals keep glucose levels in retinal cells from becoming too high, activate an enzyme important in cellular energy balance and promote healthy protein production. The berries also protect against age-related macular degeneration.

Goji berries could interact with some drugs. If you take warfarin (a blood thinner), you may want to avoid goji berries. Goji berries may also interact with diabetes drugs and blood pressure drugs, so talk with your doctor first.