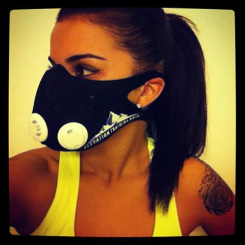 All it does is create a resistance, so your diaphragm and chest muscles have to work harder to get the same volume of air in.
Physiological adaptations for altitude are just so much more complex than breathing harder.
Training masks simulate a reduced oxygen environment in order to produce "normobaric hypoxia"—oxygen deprivation similar to that at high altitude,
but at normal atmospheric pressure
.
Although normobaric-hypoxic training may induce some of the physiological adaptations of altitude acclimatization, these are only evident in a normobaric environment—i.e., at normal atmospheric pressure.
At altitude, these devices produce only a small reduction in susceptibility to acute mountain sickness, and no improvements in sleep quality or performance have been reported in published peer-reviewed studies.
Decreasing the barometric pressure while reducing the oxygen content of air, as in hypobaric-hypoxic training, is an evidence-based practice used to acclimate prior to altitude exposure, but it requires special equipment and medical oversight.
Finally, this thing is misleading advertising. It has nothing to do with and does not simulate
altitude training
. Their science page is frankly, a joke.