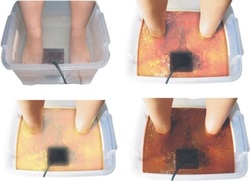 If it was that easy to remove all the toxins out of the body, there wouldn't be so many health problems all over the world. This is for people who are after a placebo effect but it basically does nothing,Why?
Don't put your feet in, it will still change color in the same way. It's just a chemical reaction with metal plates.
There is absolutely no scientific proof that toxins can be sucked out of your feet.Save your wallet for something more useful and healthy like a deep tissue massage & drink plenty of water after.