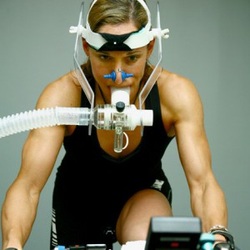 While it obviously is desirable to determine its MAS after a test conducted in the laboratory it is possible to appreciate a field test.
Several tests are possible to determine the MAS ; I have arbitrarily chosen two for simplicity
Reminder:
In all cases with a warm up essentially 4-5 straight of about 50m sprints with jogging back to the start.

TEST half cooper
This is run in a maximum distance within 6 minutes and then multiplied by 100 the distance traveled.
MAS = x100 distance
Advantage:
Easy to set up , the duration of the test is approximately the time supporting MAS
Disadvantage:
No mark on MAS (especially for the first test ), it is difficult to choose a speed as you will miss landmarks, the risk is to start too fast ... or too slow .

TEST VAMEVAL

This test should be done on a track , the distance is a multiple of 20 meters ( example: 200m, 300m, 400m) . Before beginning, precisely mark the trail by placing a pad every 20 meters .
Test Protocol
During the test , Athlete must travel the distance between two studs as long as possible with the pace set by recorded on an MP3 player beeps. As the test progresses , the duration between beeps decreases gradually, forcing the rider to accelerate in order to be the next stud when the beep.
The initial rate is 8 km / h. The gap between two beeps is calculated so that the speed of the runner increases 0.5 km / h every minute.
The test stops when the pace does not allow to reach the next cone when beep sounds. The speed reached on the last level crossing corresponding to the runners' MAS.
Runners' MAS is obtained by extrapolating the average speed obtained on the test.

Advantage:
Fairly easy to set up without having marks on MAS , more accurate
Disadvantage :
Request a management of contact ( one every 20m) and MP3 player on which you've installed the sound tilt pace

download test (source www. u-run.fr)
http://www.u-run.fr/wp-content/uploads/2012/06/1979_test_luc_leger.mp3

Correspondence bearings / speed
warning : this is a rough estimation that cant replace validation by a clinical stress test.