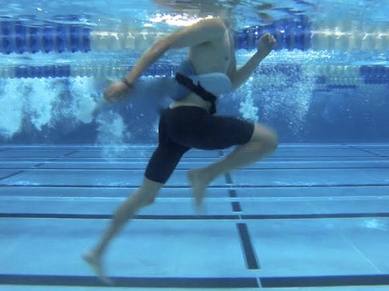 Aqua jogging still has some advantages for athletes of all kinds including those who wish to strengthen the legs without trauma. athletes in rehabilitation will be amazed by this terribly effective method on the joint and heart-muscle.

First advantage: specificity
Indeed, consider the example of running where gestures between the race on dry ground and the aquatic environment is performed essentially the same.

Second advantage: the absence of trauma:
This is certainly an exercise in the first choice for an injured athlete in muscle building or the person with a significant overweight.
Last but not the least, it is a gentle and accessible to all activity. No need to have a time slot, even if it is better if you want to avoid being the focal point of the pool ...

Method
the goal is to achieve a gesture technically similar to outdoor running, while keeping your head above water..!!

Technique
the start, you have a tendency to lean forward too much, knees too high or too pronounced for the return leg, looking to correct these faults as soon the beginning of the session, You will gain a good technique do you correct by a partner (looking under water) before thinking to make a session focused on training specificity.

The ideal technique is:
• the body leaning slightly forward
• the arm placed in the axis of the body
• push the water backwards through muscles behind the thigh without exaggerate the movement.

How to train
Water creates a high resistance to movement and the energy expended in the fight against this element are proved both physically and psychologically costly. Those practicing aqua jogging regularly also benefit from massage interesting effect created by the movement of water and a full muscle building offered by this resistance.
After gaining proper technique you can perform a specific workout

Type of session:
There are three:
• Drive continuous, Endurance basic => De 30' 1:30
• Training in alternating paces, More physiologically demanding, Result in the development of muscle power
• The training stage or variation fartleck, Change of shapes and intensity - (See sample)

intensity:
The exercise time should be longer than on earth session because you see your heart rate rise less rapidly.
During training by alternating pace you can keep the same amount of work than ground session, but you have to divide by two the recovery.
Establish a connection between your pulse field work and work your pulse of water is relatively random, however, for the latter may be deemed to be below 15 to 20%.

Sample sessions:
• Basic Endurance: 1:00 divided into 6X10 'or 3x20' for example.
• Session fartleck: Vary freely gaits envy as on land, length of the session 35-40.
• Session alternating gaits: 15 'heating and 5X5' rest or 6X3 = 2'30 'rest = 1'

Distribution of sessions:
For three sessions in the week.
1 session by type of work is a good solution especially avoiding demotivation.
For four sessions in the week.
Alternate session with basic endurance sessions and qualitative work (alternating and fartleck).