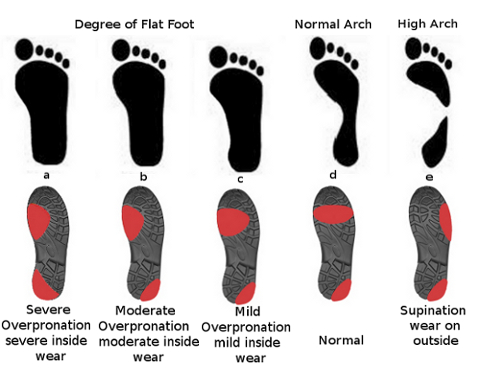 Your feet are not identical, so fit the larger one when buying shoes. The best time of day to shop for a shoe is at the end of the day, when your foot is the largest. A long jog in warm weather can expand a runner's feet as much as half a size. Test shoes before you buy them. Good shoes should feel comfortable when you first try them on, not after they have been broken in.

Supination / under pronation
Underpronation is the opposite of overpronation - your feet don't roll inwards enough. This is often happens if the arches of your feet are high. This causes excessive weight on the outside bone of your foot. As with overpronation, this results in poor cushioning for your body which may make stress fractures more likely.People who underpronate should wear cushioned trainers with maximum shock absorption to reduce the stress on their lower legs and back.

Pronation/ over pronation
Many models of running shoes are now especially designed for those who pronate as well as those with a standard gait.
This occurs when the foot rolls inwards too much. This causes your weight to spread unevenly, putting excessive weight on your big toe. This puts increased stress on your bones, muscles and tendons. It can also cause your leg to turn inwards putting your knee and hip out of alignment.
Overpronation can be a factor in the developing many common overuse running injuries such as Achilles tendinopathy, medial tibial stress syndrome and Bunions.
Most people overpronate slightly, especially people with flat feet. These people should wear motion control or stability trainers to help control the excessive rolling inwards motion and maintain good alignment. Additionally, overpronation can be corrected using orthotics. Orthotics are special in-soles that fit in your shoes, for example, arch supports.

Supination Road:
Brooks -Glycerin
Mizuno - Wave Rider, Wave Creation
Asics - flux , Cumulus, Landreth, Nimbus
New Balance - 882, 1061
Saucony - Trigon Ride, Triumph
Adidas - Boston, Supernova Cushion, Adistar
Nike - Pegasus, Vomero


Supination Trail:
Trail shoes doesn't correct under pronator however some might be more suitable, the only factor you really need to consider when buying them is what terrain are you considering running over?
however those one are sold, more comfy for under pronation.
Brooks - adrenaline ASR / Cascadia / Pure Grit 3
Salomon - XA Pro 3D
Asics - GT 2000
Adidas - kanadia trail



Over pronation Road:
Nike - Zoom Equalon+ 4
Asics - Gel-Evolution 5
Saucony - Ride 7
Brooks - Ghost
Adidas Adizero Adios Boost 2
Mizuno Wave Evo Levitas


Over pronation Trail:
Trail shoes doesn't correct over pronator however some might be more suitable, the only factor you really need to consider when buying them is what terrain are you considering running over? however those one are sold, more comfy for over pronation.

Salomon - S-Lab Fellcross 3 / fellraiser
Saucony - Peregrine 4Inov-8 Trailroc 245