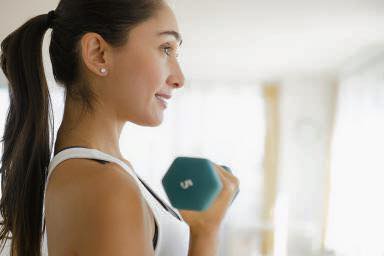 Metabolism is the "magic little army" working to burn calories all throughout the day. Metabolism levels are different for everyone and are determined by the amount of muscle we have. For most people, metabolism slows down dramatically as we age because the muscles atrophy when they are not being used, thus, decreasing our metabolism and causes weight gain. When women lift weights,they keep the muscles active.Weight lifting builds type II muscle fibers, which has been proven to reduce body fat through the increased metabolism.
Common medical condition for women over 40 is osteoporosis. Studies have shown bones strengthen when they feel the stress (more like perceived stress) of weight lifting. Not to say they need to lift weights heavier than they are comfortable with.
What is the biggest difference in bodies at 40 vs 20 years ago? You had muscles back then! You didn't really had to work for the muscles too much then, but over time they have atrophied. Lose inches and look great by building your muscle tone.
Okay, so maybe that is more info than you needed to be convinced to start weight lifting today. Bottom line is our muscles are an important part of your body that helps us be healthier, leaner and basically reverses the aging process.
Lifting weights is one of those snowballs at the top of the hill. So many wonderful effects when women over 40 lift weights. If I had to choose a favorite, it would be – the more muscle, the more calorie burn we have – specifically fat burn.
The last thing to worry about is bulking up like a bodybuilder. It takes a lot of effort to bulk up such as eating a whole lot of proteins, calories and a whole lotta weight lifting. Women just don't have the amount of testosterone that men do and that is why men bulk up differently than women.
Women over 40 must lift weights regularly to help meet the goal of being lean and toned. Lifting weights is about working smarter, not harder. Lifting weights restores the muscle loss that comes with aging and restores the metabolism we had a younger age.
So bring it on!