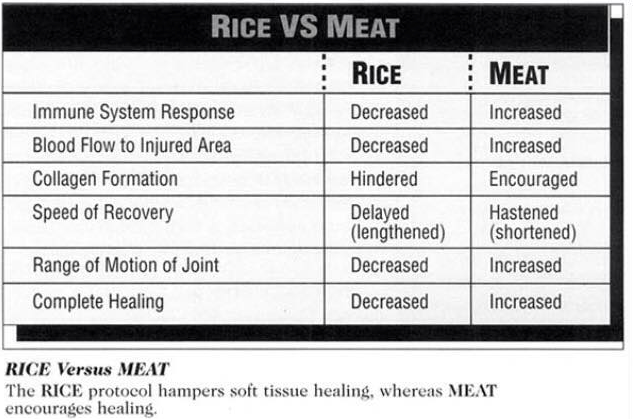 Over the last 30 years athletes thought RICE was the best to do to recover from injuries.
A little reminder about R.I.C.E.:Rest:
Stay off the injured (foot/ankle). Walking may cause further injury.
Ice:
Apply an ice pack to the injured area, placing a thin towel between the ice and the skin. Use ice for 20 minutes and then wait at least 40 minutes before icing again.
Compression:
An elastic wrap should be used to control swelling.
Elevation:
The (foot/ankle) should be raised slightly above the level of your heart to reduce swelling.
However, this treatment is now under criticisms from a surprising source, the doctor who created the RICE treatment guidelines, Gabe Mirkin, MD.
In a recent article on his own website, Dr. Mirkin admits that both ice and rest (key components of RICE) may delay healing. This insight comes 36 years after Dr. Mirkin authored the The Sportsmedicine Book (1978), where he coined the acronym RICE for the 4 elements which became the standard of care in treating soft tissue injuries- Rest, Ice, Compression and Elevation. Coaches, physicians, physical therapists and the lay public have recommended and followed the "RICE" guidelines for decades, but as Mirkin states, "
it now appears that both ice and complete rest may delay healing, instead of helping.
"
RICE treatment is totally inappropriate for healing ligaments. Icing can cause muscle damage, fatigue, and delayed recovery in elite athletes Applying ice to reduce swelling delays healing.

Inflammation is necessary because it plays an important role in the healing and recovery of muscle cells and soft tissue regeneration. Tissue that is damaged through trauma or vigorous exercise requires inflammation. When muscles and other tissues are damaged, your body sends inflammatory cells to the damaged tissue to promote healing. Inflammatory cells rush to injured tissue to start the healing.
Ice Reduces Strength, Speed, Endurance and Coordination Another study Mirkin cited was in Sports Med, Nov 28, 2011 which stated, "
Ice is often used as short-term treatment to help injured athletes get back into a game. The cooling may help to decrease pain, but it interferes with the athlete's strength, speed, endurance and coordination in long term.
"
As opposed to R.I.C.E. , I present "M.E.A.T." (Movement, Exercise, Analgesics and Treatment) , in my opinion, it healed the athlete faster and made weakened tissue stronger without the need for surgical intervention.
I treat many types of musculoskeletal conditions in individual and athletes of all levels, every day. I recommend treating acute sports injuries, not with RICE, but with MEAT (Movement, Exercise, Analgesics and Treatment). It has already established that R.I.C.E. has been the conventional method of pain management and treatment of sports injuries for years, even decades. Even though the author of RICE has recanted its use, and research proves it can be injurious, you will most likely continue to see it utilized from the emergency room to the sports trainer. This is a good example of how something false can hold sway on even those who are considered professionals.
Anything that reduces inflammation or the immune response will also delay healing. This includes cortisone, NSAIDS, immune suppressants, and cold packs ice.
Movement and exercise, the first two recommendations of MEAT, have been shown to be very effective at enhancing ligament and tendon healing. In recent years, the importance of controlled early resumption of activities to promote restoration of ligament and tendon function is better understood and recommended in ligament and tendon injury. The previously accepted view of treatment of these injuries with prolonged rest is shown to delay recovery and adversely affect these tissues. Various research studies confirm the negative effects of prolonged rest and the beneficial effects of activity on ligament and tendon tissue.
The best treatment approach for the athlete and anyone with an injured ligament is to heal the injured ligament back to 100 percent as quickly as possible. There is only one treatment that can do this. That treatment is Prolotherapy. Prolotherapy injections cause a localized inflammatory response, which will stimulate an influx of blood supply and reparative cells to the injured ligamentous area. This cascade of healing also includes deposits of collagen, which when mature will tighten and strengthen the injured ligament.
Prolotherapy, along with the recommended MEAT protocol, encourages ligament healing with a controlled exercise plan to maintain mobility. This treatment combination will successfully treat the injured ligament. I speak about it in the article:
prolotherapy
.