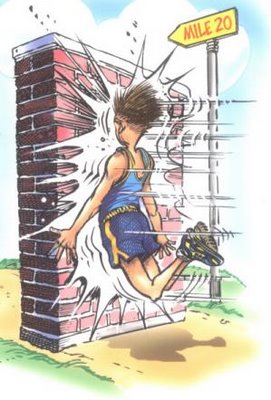 The debate on the famous "wall" is pretty much a bag to put everything in.
The stroke of glycogen breakdown (lack of "sugar" for short), or excessive rise of lactic acid to justify the " I Can't anymore" ...
Intellectually it stands but here .... how to explain that amateur cyclists generally do not know the famous Wall
(Which should be for them around 2h 30 to 3h of effort)
The micro-lesions as sneaky as formidable
When chemical messages mess up organisation.
The "famous wall" is closely related to micro lesions caused by repeated impacts accumulated with you pay cash.
Indeed the eccentric contraction of muscles repeated thousands of times leads to these tissue micro-lesions.
Following these impacts repeatedly, inflammation occurs at torn fibers.
This inflammation will trigger the mobilization of chemical messengers (cytokines for short).
These brave messengers will have a direct impact on an ordered lipid to produce energy.
All this does not turn up in 30 seconds, the time that effective regulation is put in place is the wall !!
It is essential to mitigate the effects of the "wall" to work on the sequences controlled fatigue accumulation.
Besides, I think the work pace "race specific" must work under fatigue conditions close race conditions.
As an individual in terms of programming I play a lot of these time break between degradation / overcompensation ...
My current thinking with athletes and colleagues with whom I work also carries a lot more about this setting on calibration millimeter content of the sessions.
We must be pragmatic frankly be placed at 85-87%% of VMA is similar in the vast majority of cases to cut a hair in four!
In the context of individualized coaching it seems however more important to structure the sequence of sessions to place a long output will approximate the conditions of the race situation.
You'll understand it all goes through a rigorous control of fatigue markers as RMSSD (heart rate variability) or by tracking Ruffier test values.
Strengthen your muscle fibers!
I think we have every interest in strengthening its fibers.
Besides if trailers average levels often encounter much less the "wall" that their little comrades same level of road it may be because they often work much fiber reinforcement especially during high speed tempo downhill.
Brain lack of "sugar"
The physiologist South African Tim Noakes showed that the mature famous marathon is not due (mostly) a lack of glycogen in the muscles but the brain.
It draws on many muscle autopsies that demonstrate that significant% of glycogen reserves are still present to 30th kilometer ... even as the "wall" is coming ...
If the fault is due in part to glycogen, it is simply due to the brain runs out of glycogen hypathique will impose a strong decrease in the intensity of effort.
Tim Noakes calls this the "model of the central governor"
It seems useful to recall that sugar stock are placed in two place: the liver (liver glycogen) and muscles (muscle glycogen)
>> Information on these stocks here:
http://frederic-gingreau.com/1/post/2014/10/glycogen-our-reserve-energy.html
Long isolated from his thesis Tim Noakes was joined when other researchers have also produced the same conclusions through their research.
The Finnish Rusko & also the Canadian Steve Magness or Vollard who recently made the same conclusions weigh suddenly seriously enough the impact of VO2max (your engine for short) as the sole predictor of performance in sports of endurance ... as too often articles suggest.
These researchers showed that competitors have made enormous progress without performance that they are correlated with significant changes in VO2 max.
Personally I observe with some athletes that I coach, a stress test to the other values remain essentially the same and yet sometimes significant progress there.
The fuel in the muscles can of course also be lacking
I'm not saying that the problem of lack of fuel is not present at times .... but again attention to ideas!
This is not because we are stuffed with low glycemic index sugar (pasta and co) that we will be free to the exhaustion of all its glycogen.
Even so there may be up again the wall ... and that for a fairly simple reason:
There is no glycogen transfer possibility of a muscle group to another!
To make it very simple when it is the breakdown on the legs ... glycogen stored shoulders can not really play the firefighter!
the body will "switch" then with fat consumption mode (lipolysis and hepatic gluconeogenesis for short) which will maintain an intensity level between 50 and 55% of VO2 max for several hours.
.... and this mode of exercise intensity glycogen is not the limiting factor.
Reminder: the work of GUEZENNEC have shown that body fat in adults with an average stock of 140,000 Kcal ... so we can go before emptying the stock will have to go anyway.
source:
GUEZENNEC C. Y. "Recent data on the influence of physical activity on the
protein metabolism: nutritional implications and the role of hormones "Science and Sports. 1989.
N. Vollard (2009)
"Systematic analysis of adaptations in aerobic capacity and submaximal energy metabolism Provides a Unique Insight Into determinants of human aerobic performance"
Edition: J. Appl. Physiol,
Tim Noakes
"Lore of Running".
Edition: FOURTH
The book by Tim Noakes (a paved 944 pages
)
Text translated and adapted from
Alain Roche