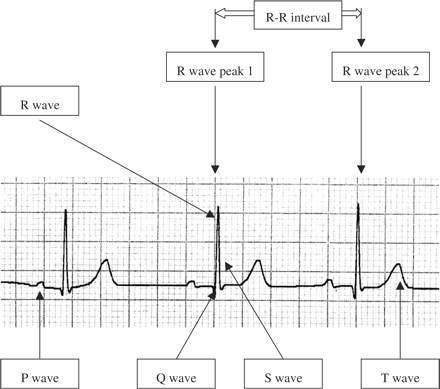 When the mind and the will are not everything!
Root Mean Square of the Successive Differences (RMSSD)
While it is true that sports an athlete's performance is closely linked to his mind, the unconscious part of the brain, completely independent of our voluntary control, also has a direct effect on the performance .In fact, our nervous system manages our recovery and management of our tiredness ...

Variability of heart rate (HRV):
Variability of heart rate (HRV) is the variation of time between beats of the heart over a period of time.
The purpose of taking this RMSSD (Root Mean Square of the Successive Differences) is to measure the amplitude of fluctuations in the heart rate of a heartbeat to another .HRV regulated by the nervous system, thus reflects the heart's ability to adjust its pace according to external and internal stresses.
Schematically the more important amplitudes will be, the better will be the functioning of the autonomic nervous system which manages the reactions of the heart to face fatigue.
RMSSD => Root Mean Square of the Successive Differences (RMSSD), which would result in: "The root mean square of successive differences in heart rate"

Illustration with the ECG which attests to a variation in the intervals between beats: from 327-348


The autonomic nervous system and its two components: ortho and para sympathetic
In a very schematic way the autonomic nervous system is not aware of our brain that receives different sources of stress autonomous part.
Some sources will be positive for its business ... and other negative.
The autonomic nervous system is divided into two branches called: parasympathetic and sympathetic ortho.
If the system is not at the top ... that's all he commands will suffer the consequences.
The parasympathetic nervous system
He was mobilized to save the cardiovascular and respiratory function ... It is the command used to rest with the effect of a decrease in heart rate and generally a decrease in the state of "physiological arousal".
It says "calming" he directs the homeostasis, active restoration of energy, reserves the active cell reconstruction lowers HR. It is related to the ventilation and respiratory rate.
The sympathetic nervous system
Command to bring energy to a time when the body is doing an effort or when facing a strong stress ...
The role of the sympathetic nervous system is put the body on alert to be effective on a particular motor action "accelerating" the heart, promoting bronchiectasis and increasing the ventilation rate ... not to mention an effect on the optimization of the contraction of the arteries (via adrenaline and noradrenaline).
It is called "stimulating" because it stimulates, activates and directs the catabolism and degradation of substrates increases the HR and the source of cardiac contraction and also regulates vascular peripheral resistance in relation to blood pressure.
In our biology nothing escapes to sympathetic and parasympathetic double checked. The heart like all other organs will not be forgotten. The influence of the parasympathetic will therefore reduce the HR while the sympathetic will increase the strength and HR, the sympathetic system will also manage peripheral resistance.
Measuring HRV
There are two ways to measure the HRV:
_ By measuring the waves emitted by the two systems (called frequency measurement)
_ Schematically by measuring time differences between intervals of heart beats (RR intervals providing RMSSD value)
THE RMSSD: a reliable and easy measurement!
Nowadays there is a real consensus among researchers about the reliability of the RMSSD timestamp that is not affected by respiratory sinus arrhythmia as is the measurement frequency.
respiratory sinus arrhythmia:
There are closed links between our breathing and our heart rate.
Interactions are taking place. In short when you breathe, rich oxygen air enters our lungs.
What is our heart doing? It accelerates to promote gas exchange and thus allow oxygen in the blood spinning .... When we exhale, the reverse happens.
Our HR slowed to limit exchanges between air and blood in order to limit the amount of carbon dioxide in the blood.
This phenomenon explained very basically is called respiratory sinus arrhythmia.
Elite competitors in many (especially endurance sports) RSA is very important it will disturb the measurement frequency.
This is quite simply explained by the fact that the arrhythmia is weighted by a nerve (the vagus nerve), which will strongly influence the frequency ,wave of the sympathetic and parasympathetic systems.
How to raise its RMSSD
The test is done with a watch for recording RR intervals (800 Polar, Suunto T6, Garmin).
For those who do not want to invest in a high-end cardio shows there is the possibility to provide you via your smartphone applications either free or affordable to meet your RMSSD
>> Android phone: https://play.google.com/store/apps/details?id=com.RMT.cardioscan
>> Iphone (4S and older): https://itunes.apple.com/fr/app/hrv4training/id686923970?mt=8
After waking up, lying in free breathing for 5 minutes
Some essential precautions
I think two measurements per week is a minimum to be able to use the data ..
Ideally, for elite athlete , it s a daily monitoring.
It therefore should not focus too much on RMSSD in vision in the short term, you might interpret too quickly each variation.
on the same level it would be simplistic to try to establish a comparison of raw values between two athletes.
The RMSSD remains a single value which must be interpreted with its own past values.
It is impossible to assess its RMSSD without knowing the low limit and high limit!
It would be totally unrealistic to read this article and rush to buy his device with RMSSD and hope to determine whether the perceived fatigue is real now!
The individualization followed by RMSSD must go with a good knowledge of its own minimum values of RMSSD during good recovery (or, conversely, those over a period of tiredness already identified). With athletes that I follow, I give myself a period of one month minimum before giving them the values on which I can support a training.
Attention to the danger of comparing RMSSD curves !!
I see a very big difference in terms of
overcompensation
, irrespective of the level of performance of the athlete.
For some athletes over 6 weekly sessions, place 3 split sessions (alternating VO2 kinetics, strength endurance and VO2max) does not pose any problem .... as for other 2 sessions already the upper limit
Step back to be objective ...
Moderation is required, it must not only calibrate its sessions focusing only on this marker of HRV.
RMSSD down (on 5') with respect to its normal values of good recovery is only an indicator of fatigue, it obviously does not give the origin of fatigue; youwill look further to make adjustments !!
Personally I analyze the evolution of graphics RMSSD athletes putting in relation to their training load ... without this precaution the RMSSD is not really useful !!
Text translated and adapted from Alain Roche.