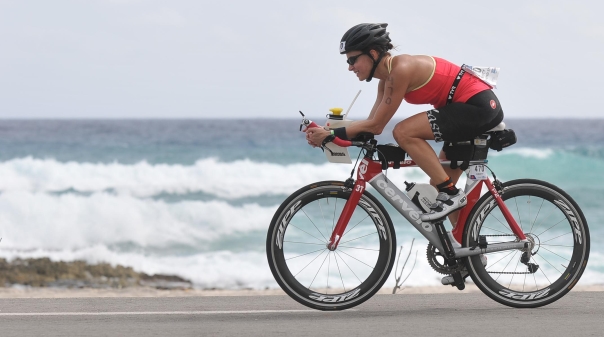 Introduction
A sports performance includes several parameters: technical, experience, mental management, equipment, preparation ... without forgetting physical abilities ...
A loss of 2% of the athletes' weight (mainly due to water loss) during exercise lowers physical abilities of by 20%!
Interest in hydration is an attempt to answer two questions:
Why the loss of water leads to loss physical abilities?
How to hydrate during endurance effort?
Why drink?
Beware of preconceptions; often we hear:
"We have to drink because you sweat, it cools down the body."

This is true but not only ...
The water actually helps maintain ideal body temperature (evaporation and sweating) ...
But it is also essential for muscular work (enzymes operation and minerals intake (sodium, potassium ...)
Therefore the water provides a good energy transmission in particular through blood plasma.
Do not forget that without water, our body can not store energy.
The food of the muscle is partly glycogen.
To store 1 gram of glycogen, it takes 3 grams of water.
Bridging loss micronutrient:
From the water that we lose during sporting activity (sweat) escapes a very large amount of essential micronutrients for the balance of the osmolarity.
We need to replace the micronutrients' loss in a very short time to maintain effort in good condition and to ensure post-exercise optimal recovery.
The body is well done, in a "normal" moderate sport situation to initiate a process of cooling, a compensatory mechanism of the blood volume starts and the water is then supplied mainly by water of our small cell.
Making very large amount of sweat is initiating a blood volume decrease:
So when stress becomes severe or continues in
long term, this mechanism is or too slow to get organized or is not enough.
In this case water is mostly supplied by the plasma.
It has therefore to rebalance the plasma volume with a beverage having the same concentration (or osmolality)of the blood.
This drink will have the advantage of not creating an imbalance between the stomach (or intestine) and blood capillaries ...
Follow a balance in water / plasma osmolarity:
It explains for the very destructive competition in term of micronutrient (heavy sweat)that you should select beverages that meet osmosis phenomena.
And this is where the relevance of such beverages containing glucose polymers (Glucose long chain) commonly called "maltodextrin" ...
Indeed maltodextrin have an osmolarity just below the plasma:
However beverages with dextrose or glucose are easy to avoid during these endurance high micronutrient loss efforts: they are difficult to assimilate by organizing With very different way from that of plasma osmolarity.
Plain water?
If you are looking to optimize hydration during exercise, plain water is also to be avoided because it can't alone achieve the necessary plasma volume equilibration.
With flat water (by definition "diluted" ...) creates an imbalance with the blood which is increasingly concentrated during effort ...
on another hand, plain water alone leaves the stomach more slowly than water mixed with maltodextrin. More the waiting time is long in the stomach (gastric emptying) ... Less organs and blood plasma are fast "fed"...
To illustrate my point, it's a bit like a tea bag in water, you still have some time before the water and the bag have the same level of concentration.
That is why drinking plain water supplemented with energy bars will not have the same level of optimization, of hydration, than an isotonic drink with identical blood Plamsa osmolarity.
Indeed there will be a significant time lag between when the water will be "potentially" used by the blood, andd the blood + nutrients from the bar to be used ... the impact will be lowered with energy gels taken at the same time as still water.
Mineral:
First potassium, phosphorus and magnesium are normally given by food ... Remenber that even powerful drink as it can be DO NOT intended to replace solid food , before exercise or during exercise ... if is greater than 2 hours.
Having said that all spring water or mineral is itself provided naturally in minerals.
Each mineral water to its specificity, read the labels and focus on highly mineralized waters.
vitamins:
Glucose arriving in our cells needs vitamin C to transform it into energy molecule ... But as part of a balanced intake before exercise vitamin power is unnecessary during exercise. Beyond 4h effort we can consider supplementation but never in orange juice (too acid!).
The water circuit in the body:
If drinking a glass of water is a simple gesture, mechanisms
competing to create the sensation of thirst, have dictated the decision is the result of complex interactions, and ingestion will trigger with low biological response of a complex control system. Just drunk, the water arrives in the intestine; rapidly absorbed, then it is properly routed to the kidney, where two million nephrons begin to work to dilute, concentrate, then excrete what in this supply of water came suddenly increasing the water storage in excess . The amount of water retained by the body is constant because the kidney is the main responsible for the management and monitoring this stock. However, "sandwiched" within this stability, continuous fluctuations occur. The water distribution in the body is indeed in perpetual motion, and osmotic forces are the main factors governing exchanges between the various compartments. Sodium, especially extracellular location, and potassium, electively concentrated in intracellular spaces, play an important role. As to the water itself, it may be free or in bound form for the latter ion excretion in the kidney.
In the body, there is a biological equilibrium, for a person in good health, living in a temperate climate, kidneys easy can maintain balance. However, the mechanisms may, in certain circumstances, pathological or not, find themselves overwhelmed or caught out. Thus in a heart patient or in a cirrhotic subject to strict sodium diet (without sodium), excessive water absorption can result in poisoning, sodium located in insufficient quantities to remove excess water .
What to drink:
Takin the risk repeating myself, the goal is to make a drink that is as close as possible to the characteristics of body fluids.
The basis of preparation: water
mineral water or water from home?
First we must bear in mind that the principle of mineral waters supposed trade heavily loaded with minerals is primarily a sales pitch.
Yes yes ... you should know that the minerals in water are inorganic. They have a very low absorption level and are therefore very relative useful to the metabolism.
I would like to point this : it is the organic minerals that are most appropriate for the body : ie those fruits and vegetables!
In an effort to less than 3 hours in winter weather with little sweating, excessive mineralization of the water should be avoided instead to avoid overloading the kidney work.
However, if heat and / or very long session (with significant losses in minerals) happen, a water "Hépart" or "contrex" is interesting.
It is also this type of water I recommend for indoor cardio sessions (type home trainer, elliptical trainer) because:
heavy sweating = loss of minerals! However, I would nuance my comments ...
yes after exercise 1 glass of Vichy water, or better yet Badoit Saint Yorre, will strengthen the full mineral ... even if it will be a priority by taking fruits and vegetables after effort (soup, applesauce).
These sparkling water, rich in bicarbonates also help to remove lactate ... so fatigue feeling decrease.
Sugar intake:
Do we need to recall that the muscle uses glucose as an essential fuel (taken directly from the diet and the digestive tract and blood plasma or already stored by the body in the muscle itself and the liver: glycogen reserve).
This glycogen is limited to 90 minutes (maximum) effort ... beyond, the body will have to find energy elsewhere:
in fats or, if very clever athlete with immediate arrival of new glucose molecules!
But here to use glucose, a chemical reaction is taking place ... it combines enzymes and oxygen to water molecules!
The process of using glucose in turn produce the cells of the water molecules and carbon dioxide (Kreps cycle).
(in a situation of very intense effort, reaction occurs without oxygen, "anaerobic")
So ... for 90 minutes at the most (if the subject is at very good level) water body is sufficient for purposes of utilization of glucose and produce energy.
Then if the water supply has not been done ... well almost everything stops!
And is often followed by the famous pump stroke associated with the sensation of a terrible thirst!
Then we hear "I'm in hypo"... We should just say "I'm dry"!
Because of blood glucose without water molecule in the cells is a bit like having a diesel engine with the fuel without direct access to the engine tank!
When we go beyond the famous 60 to 90 minutes you are in this situation of cellular dehydration!
The body then shouts "to the rescue!"
Sugar yes, but ...
If the drink is very sweet the time of ingestion is increased and digestive problems may occur. If, however, it has little or no sugar, much of the liquid will not be absorbed and will be removed in the urine.
The rider will be weighed down, his breathing may be impaired and to still lose a little more time, he will stop frequently to urinate!
A concentration of 60 grams per liter avoids these drawbacks while providing some of the sugar necessary to muscular work.
Minerals:
About 200 mg per liter of sodium and potassium.
there are many minerals that allow entry of water in our small cell, but these are mainly sodium and potassium which will play this role.
Table salt: with caution ...
200 mg per liter is still low and therefore totally unnecessary to build a very strong salt water ... unless you go to the Sand Marathon!
The intake should be moderate during exercise and excess may even been harmful by the oversubscription of the renal system.
Warning ingesting salt tablets, usually highly concentrated, can increase digestive secretions and hence be responsible for digestive disorders.
In my point of view, they should only be used in cases of severe dehydration ... so by definition when the athlete is obviously very wrong with has to stop ...! In fact most of the time tablet increases the work of the kidneys; we are very far from a use to optimize hydration during the event!
That said, my words ... I would say salt tablets are highly recommended for those who do not have kidney problems during very specific events such as the marathon of the sands where in ultra long distance cycling or running.
Anyway a drink with a concentration of salt in the order of 1 g - 1.5 g / liter widely enough, especially since the risk usually is not a lack of salt since the sweat is more water than a loss of salt. Sweat is hyponatremia compared to plasma.
1.2 g of salt per liter is equivalent to the salt concentration in the liquid intra / inter cell.
Do not forget the salt (NaCl for short) was first function to participate in the absorption of carbohydrates by our dear little cells to transform it into energy (ATP ... again for short!)
Baking soda:
Some nutritionist advocates taking baking soda, makes the assumption that it s increasing the capacity of tissues to buffer the acids produced by the effort, it could increase the resistance to muscle fatigue; which acidity is responsible.
Unfortunately, to date, no study, no lab does not support this thought ... so it does not seem taking baking soda well and on top of this digestive disorders has been widely recognized!
tea:
Green tea is better than black tea ... yes do not forget that bl
ack tea has undergone fermentation ...
Tea brings water therefore in principle it hydrates. But each tea has its own characteristic based on the theory of yin and yang.
ying: cold, quiet, girl, water
yang: warm, light, motion ...
red tea, black = yang
green, white tea = ying
Yellow = neutral
dosage
Several parameters must be taken into account for the determination of the concentration of the drink:
The humidity (greatly reduce the concentration in stormy weather)
External heat (eg, more hotter the more you reduce doses)
The exercise duration (longer it will take more concentration dextrose will be reduced to benefit to maltodextrin)
The intensity of effort (with a violent effort and short enough you can increase the amount of dextrose / glucose)
The nature of ingested carbohydrates (if drinking heavily dosed maltodextrin, lower concentration)
The temperature of the solution (more liquid will be cold higher will be concentration)
The sodium content of the solution (it is more significant the higher the concentration is low)
The interval between ingestion phases ( lower if close together)
The condition of the stomach (empty or full)
In short it is to fill a stomach ... but it's even better to make sure if we will then be able to digest it!
How to drink?
It is important to drink in the first fifteen minutes of effort.
Remember that thirst is felt when dehydration is well underway!
Taking drinks benefit from being common. It is recommended to drink small amounts frequently rather than a large amount of time to time.
The body is not able to absorb more temperate atmosphere in about 800ml (1 liter to 1.5 liters per hour maximum).
Needless to reach the stage where excess water drunk is going directly to urine.
Repeated every 7 minutes sip is a fairly reliable indication
Fragmentation reduces fluid intake difficulty and increases digestion absorption liquid.
Beware of preconceptions ...
Over hydration:
Remember the risk of over hydration bis causing hyponatremia (low sodium levels in the blood). Each year the over hydration causes the death of marathoners ...
It's been a long time since we no longer advise runners to drink in large quantities.
Studies published in recent years have shown how this recommendation could be dangerous.
A study by the expert (Tim Noakes) on nearly 500 runners who completed the Boston Marathon in 2002 showed that 13% of runners had hyponatremia at the end of the race. Hyponatremia is the drop in sodium levels in the blood (<135 mmol / l). It may come from leakage of salt in the body (for sweating ...), but also by a large intake of water. When lower, sodium levels reached critical levels, it can have serious consequences on the body (brain swelling ...).
Urinate a sign of dehydration?
Here and there i see the idea of urinating could be a sign of dehydration!
This is not the urine itself the sign of a state of dehydration .. but its color ... which is the manifestation of the density level of electrolytes waste removed ...
Do i need to repeat that hydration means the supply of water by mouth (or intravenously) ... to fight against dehydration!!;)
The production of urine is the main route for the release of excess water ... but it is also the escape route of electrolytes (sodium, potassium in particular)
Gradually, as the loss of water through sweating increases during exercise, the body will protect itself and therefore try at all costs to maintain a minimum capital of water and keep the little water that remains .. by slowing urine ...
The direct consequence of this mechanism:
Waste disposal (electrolytes for short) will become very weak!
Dehydration is always characterized by the absence of urine or dark urine, and in small quantities.
So almost systematically one who does not urine has not drunk enough!
Hypoglycemia does not have a direct link with water supplies
The classic hypoglycemia
Hypoglycemia is occurring after 2 hours of effort ... is NEVER linked to a contribution of sugar!
Shortly except specific diseases (endocrine) and very rare one, there are three sources of hypoglycemia:
A lack of glucose
This is the case for the vast majority of athletes
Reminder:
Glucose enters our cells in two ways:
A. from food and the digestive tract via the blood plasma
B. from liver using liver glycogen and again transported by the plasma
An excess of insulin
what happens in the reaction hypo I explained below
An activation of the production of ketone bodies default
during an empty stomach period severe and long, due to the lack of availability of use of essential fatty acid
Reactive hypoglycemia This is the beginning of hypoglycemia effort
called reaction that NEVER occurs after a long effort!
When an athlete takes sugar just before strenuous exercise (eg a very sweet energy bar on the start line) general energy shock is created between the 20th and 30th minutes.
The sport often with empty stomach for 3 hours (the famous meal 3 hours before exercise concept that does not really coast when the power is suitable for efficient and rapid gastric emptying) is left with a rapid influx of glucose; glucose is increasing, the body will respond by secreting large amounts of insulin.
And it is this insulin will begin the process of hypoglycemia ...
hence the name of "hypo reaction" ...
Text translated and adapted from Alain Roche.